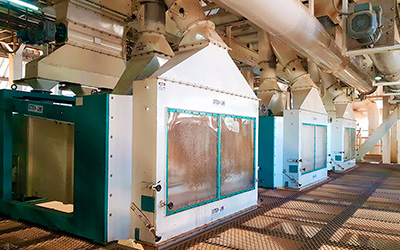 Production of High-Protein Meal
 The hulls separated from the processing flow provides a high-protein meal, improves the performance of the operation and increases the useful life-time of preparation equipment and of their components.
Hulls, cracked grains, smashed seeds, fragments of hulls, powders and fines are separated with great efficiency by the Extech-Link LSC-D series Air Column and the Hulls/Fines Separator.
Cracked grains free of hulls are conveyed to processing flow. Fines and powders are recovered and also follow to the main flow. Smashed grains are returned to process.
Hulls and fragments of hulls are stored to marketing (soybean hulls), or burned into boilers (sunflower hulls).
Air Column
Separation of hulls by difference of densities, available in a wide range of models and sizes. The design allows integrating a set of equipment for large capacities. Air flow adjusters and feeder with product beater are standard items.
Pneumatic Separation and Recovery Systems
Adjustable air flow rates to aspirate hulls, powders and fines are available in the Air Column, Separation Sieves and Recovery Sieves. Cyclones are equipped with air seal valves.
Hull Separator
Separation of kernels, powders and fines from cracked grains. Heavier products are separated in the upper and lower decks by orbital oscillation; the lighter ones by adjustable air flow.
Air Column with Feeder and Hull Beater
A set of beaters, mounted at the inlet of the Air Column, releases the fragments of kernels which are still trapped to the particles of the hulls. This ensures an efficient separation of small pieces of hulls and the recovering of small particles of cracked grains.
Photos